For the 2016 reissue, see UV77 (2016 reissue).
The UV77 is a seven-string solid body electric guitar model introduced by Ibanez in 1990. It is a signature model of American guitarist Steve Vai, and part of Vai's Universe series. The UV77 was available only in a swirled Multi Color finish.
A prototype of the UV77 MC appeared on the cover of Vai's 1990 masterpiece album, Passion and Warfare. This prototype actually featured a monkey grip like Steve's JEM guitars, but the grip was edited out of the picture and all regular production UV's were 'gripless'.
Ibanez announced a limited production reissue of the UV77 at the Winter NAMM Show in 2016. The reissue commemorates the 25th anniversary of the release of Passion and Warfare.[1]
Specifications
Specifications for UV77
Model name: UV77
Year(s) produced: 1990–1993
Sold in: Europe / Japan / USA
Made in: Japan
Finish(es): MC (Multi Color)

Body
Body type:
Solid body
Body material:
American basswood
Neck joint:
Cutaway Heel
Bridge:
1990: Edge 7
1991–1993: Lo Pro Edge 7
Pickguard:
Clear
Hardware color:
Cosmo black

Neck
Neck type:
UV
Neck material:
1-piece maple
Fingerboard material:
Rosewood
Fingerboard inlays:
Disappearing pyramids
Frets:
24 / 6140
Portal:
Universe series
|
Signature series
|
Guitar models

Multi-color finish
Although regular production of the guitar took place in Japan, the guitar bodies were 'swirled' in the USA creating the unique finish. This was done by Darren Johansen of About Time Design. Unfinished bodies would ship from the Japan to the US for swirling and back to Japan for clear-coating and final assembly.
Some of the first UV77s were actually swirled in Japan. These Japanese swirled UV77s are also known as MKRs (Mustard/Ketchup/Relish) due to their limited swirl and color palate. To cut costs an attempt was made to copy the swirling process, but the Japanese 'swirls' weren't approved by Vai himself due to lack of quality. Later models were done in the US.
Images
Video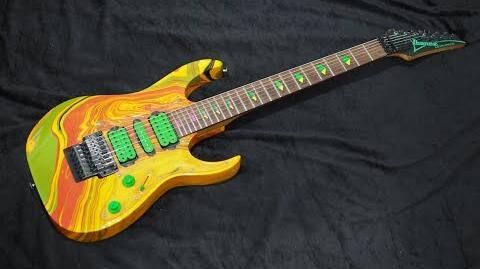 1989 Ibanez Universe UV77-MC
References