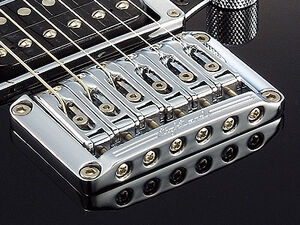 The Tight-End is a guitar bridge used on various hard-tail Ibanez models. It was introduced in 2008 as the bridge for the FR1620 and FR2620 models. It was also used on the 2009 JEM7EAFX hard-tail model.
The Tight-End bridge is a reworked and refined version of the classic Fixed bridge. Improvements include saddles which locked into the baseplate to ensure that string vibration is transmitted into the guitar body. The saddles remain linear with intonation adjustment and the height of each can be adjusted individually to dial in the preferred string action.
Crucially, the top of the Tight-End is flat to ensure that the player's knuckles won't get attacked by the bridge. [1]
The Tight-End R is a similar design which is built specifically for RG series models.
Sources
↑ FR1620 product page , Ibanez UK (website), archived July 2009.
Community content is available under
CC-BY-SA
unless otherwise noted.