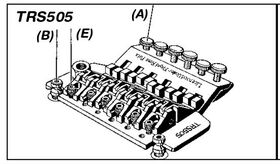 The TRS505 is a single locking tremolo bridge used on some Ibanez guitar models. It is produced in Japan by Takeuchi Manufacturing based on a design licensed from Floyd Rose.
The TRS505 is a single locking, floating tremolo with die cast saddles. It is similar in design to the TRS-101, but instead of anchoring the string in the saddle with a screw as on that trem, the saddles of the TRS505 simply retain the string's ball end.
The body of the tremolo is stamped and then hardened using heat treatment. It uses a traditional system of three springs and a claw to counteract string tension and return the bridge to the original position to maintain tuning stability. The design also relies on a locking nut to anchor the string at the headstock.
Sources
Portal:
Tremolo bridges
|
Parts

Community content is available under
CC-BY-SA
unless otherwise noted.