m

m (update for 2020)

Line 8:
Line 8:
 

The TMB2000 features an asymmetric double-cutaway ash body bolted to a maple neck with a 20-fret rosewood fingerboard with binding and acrylic block position markers. Components include a pair of custom Nordstrand passive pickups mounted in a tortoise pickguard with a Jazz pickup at the bridge and a Precision pickup at the neck, an Ibanez custom preamp with a bypassable two-band EQ, a Gotoh bridge with 19mm string spacing, a plastic nut and Gotoh tuning machines.

 

The TMB2000 features an asymmetric double-cutaway ash body bolted to a maple neck with a 20-fret rosewood fingerboard with binding and acrylic block position markers. Components include a pair of custom Nordstrand passive pickups mounted in a tortoise pickguard with a Jazz pickup at the bridge and a Precision pickup at the neck, an Ibanez custom preamp with a bypassable two-band EQ, a Gotoh bridge with 19mm string spacing, a plastic nut and Gotoh tuning machines.

 
 
−

For 2017 the body species was changed to alder.

+

For 2017 the body species was changed to alder.

−
 
−

The TMB2000 was discontinued in early 2019.

 
 
 
 

{{Clr}}

 

{{Clr}}

Line 20:
Line 18:
 

| subseries = Prestige series

 

| subseries = Prestige series

 

| subseries2 =

 

| subseries2 =

−

| year = 2016–2019

+

| year =

−

| area = Europe / Japan / USA

+

| area = Europe / Japan / USA

 

| made = Japan

 

| made = Japan

−

| colors = Antique White Blonde Low Gloss (AWL) / Blue Zilcon Low Gloss (BZL) / Tri Fade Burst Low Gloss (TFL)

+

| colors = Antique White Blonde Low Gloss (AWL) / Blue Zilcon Low Gloss (BZL) / Tri Fade Burst Low Gloss (TFL)

 

| bodytype = Solid body

 

| bodytype = Solid body

−

| matbody = ''2016'': Ash<br/>''2017–2019'': Alder

+

| matbody = ''2016'': Ash<br/>'''': Alder

 

| matneck = {{1pm}}

 

| matneck = {{1pm}}

−

| matfb = Rosewood w/ binding

+

| matfb = Rosewood w/ binding

 

| nj = [[AANJ]]

 

| nj = [[AANJ]]

 

| neck = [[TMB4 (neck type)|TMB4]]

 

| neck = [[TMB4 (neck type)|TMB4]]

Line 35:
Line 33:
 

| frets = 20

 

| frets = 20

 

| fretsize = medium

 

| fretsize = medium

−

| fretedge =

+

| fretedge =

 

| bridge = [[Gotoh 203B-4]] fixed

 

| bridge = [[Gotoh 203B-4]] fixed

 

| stringspace = 19mm

 

| stringspace = 19mm

Line 45:
Line 43:
 

| eq = [[Ibanez Custom Electronics 2-band EQ]] w/EQ bypass switch

 

| eq = [[Ibanez Custom Electronics 2-band EQ]] w/EQ bypass switch

 

| battery = 9V

 

| battery = 9V

−

| output = 1/4" stereo box (angled top mount)

+

| output = box (angled top mount)

 

| inlay = Acrylic block

 

| inlay = Acrylic block

 

| tuners = [[Gotoh GB11W]]

 

| tuners = [[Gotoh GB11W]]

−

| tuning = 1G,2D,3A,4E

+

| tuning =

−

| strings = .045/.065/.085/.105

+

| strings =

 

| knobs = [[Knurled metal dome]]

 

| knobs = [[Knurled metal dome]]

 

| pg = 3-ply: Tortoise / white / black

 

| pg = 3-ply: Tortoise / white / black

Line 64:
Line 62:
 

| Frequency response SDB.jpg | EQ frequency charts

 

| Frequency response SDB.jpg | EQ frequency charts

 

}}

 

}}

 
+
 
+

== Video ==

 
+

[[File:Talman Bass Prestige TMB2000|center|675px]]

 
 
 

== Sources ==

 

== Sources ==

Line 71:
Line 72:
 

* [[2018 Europe catalog]] ([[:File:2018 Full Line catalog for Germany p86-87.png|page 86]])

 

* [[2018 Europe catalog]] ([[:File:2018 Full Line catalog for Germany p86-87.png|page 86]])

 

* [[2019 USA catalog]] ([[:File:2019 Full Line catalog for USA p95-96.png|page 95]])

 

* [[2019 USA catalog]] ([[:File:2019 Full Line catalog for USA p95-96.png|page 95]])

 
+

* [http://archive.today/2020.01.19-163740/https://www.ibanez.com/usa/products/detail/tmb2000_00_02.html TMB2000 product page], Ibanez USA, archived January 2020

 
 
 

[[Category:Talman Bass models]]

 

[[Category:Talman Bass models]]

Line 80:
Line 82:
 

[[Category:2018 models]]

 

[[Category:2018 models]]

 

[[Category:2019 models]]

 

[[Category:2019 models]]

−

[[Category:Discontinued bass models]]

+

[[Category: ]]

 
+

[[Category:2020 models]]
---
Revision as of 16:44, 19 January 2020
The TMB2000 is a Talman Bass series solid body electric bass model introduced by Ibanez in 2016. It was made in Japan by FujiGen as part of the upscale Prestige line.
The TMB2000 features an asymmetric double-cutaway ash body bolted to a maple neck with a 20-fret rosewood fingerboard with binding and acrylic block position markers. Components include a pair of custom Nordstrand passive pickups mounted in a tortoise pickguard with a Jazz pickup at the bridge and a Precision pickup at the neck, an Ibanez custom preamp with a bypassable two-band EQ, a Gotoh bridge with 19mm string spacing, a plastic nut and Gotoh tuning machines.
For 2017 the body species was changed to alder. For 2020 the fretboard was changed to Macassar ebony.
Specifications
Specifications for TMB2000
Year(s) produced: 2016–2020
Sold in: Europe 2016–2019 / Japan 2016–2019 / USA
Made in: Japan
Finish(es): Antique White Blonde Low Gloss (AWL) / Blue Zilcon Low Gloss (BZL) / Tri Fade Burst Low Gloss (TFL) 2016–2019

Body
Body type:
Solid body
Body material:
2016: Ash
2017–2020: Alder
Neck joint:
AANJ
Bridge:
Gotoh 203B-4 fixed (19mm string spacing)
Pickguard:
3-ply: Tortoise / white / black
Knob style:
Knurled metal dome
Hardware color:
Chrome

Neck
Neck type:
TMB4
Neck material:
1-piece maple
Scale length:
864mm / 34"
Fingerboard material:
2016–2019: Rosewood w/ binding
2020: Macassar ebony w/ binding
Fingerboard inlays:
Acrylic block
Frets:
20 / medium (Prestige edge treatment)
Nut:
Plastic (38mm)
Machine heads:
Gotoh GB11W

Electronics/ Strings
Pickup configuration:
JP
Bridge pickup:
Nordstrand NJ4 (J) passive
Neck pickup:
Nordstrand NP4 (P) passive
Electronics:
Ibanez Custom Electronics 2-band EQ w/EQ bypass switch
Controls:
Concentric volume and balancer / concentric treble & bass / EQ on/off switch
Battery:
9V
Output jack:
¼" stereo box (angled top mount)
String gauge (factory):
.045/.065/.085/.105
Factory tuning:
1G,2D,3A,4E (E standard)
Portal:
Prestige series
|
Talman Bass series
|
Bass models

Images
Additional finishes/ details

Video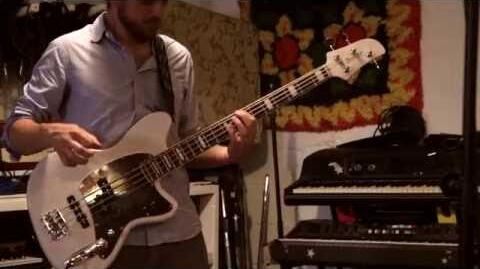 Sources
Community content is available under
CC-BY-SA
unless otherwise noted.