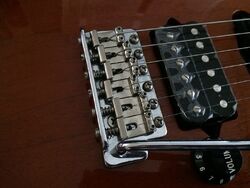 A synchronized tremolo is a type of bridge of an electric guitar. A type of this tremolo was first released in 1954 on Fender's first legendary Stratocaster. Tremolos in general enable the player to quickly vary the tension and sometimes the length of the strings temporarily, changing the pitch to create a vibrato, portamento or pitch bend effect.
The double locking tremolo developed by Floyd Rose was based on this design. Instruments without this device are called hard-tail.
The basis of the synchronized tremolo is a rigid assembly incorporating both the bridge and tailpiece which is pivoted on the guitar belly. The strings pass through the tremolo and the body of the guitar and are anchored in the tremolo block below the bridge.
Portal:
Tremolo bridges
|
Parts

Community content is available under
CC-BY-SA
unless otherwise noted.