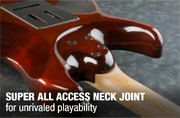 | | |
| --- | --- |
| Super All Access neck joint on an AZ series guitar | |
The Super All Access neck joint (SAANJ) is a sculpted neck joint employed on some Ibanez guitars with bolt-on neck mounting construction. The SAANJ is an evolution of the All Access neck joint with an additional cutaway on the body to allow the joint to be even thinner and less obtrusive.
The neck joint is the point at which the neck attached to the body of the guitar. When joining a guitar neck to its body using screws, a substantial piece of wood on the body side is needed to house the screws and keeping the construction 'sturdy'. This neck 'heel' can be a real obstruction when trying to reach the upper frets. As opposed to the more square "traditional" bolt-on neck heels, the SAANJ is slimmed down and rounded off for easier upper fret access.
The first Ibanez guitars to feature the SAANJ were the 2018 AZ series models.