Super 80 pickups are a model of magnetic pickups for solid body electric guitars that are designed by and produced for Ibanez. They are covered humbuckers which have an etched design of a hand with butterfly wings. This design inspired the nickname Flying Finger. They were introduced at the 1976 NAMM show,[1]. It is believed that development may have begun as early as 1974 and that pre-production versions may have been used by artists associated with Ibanez such as Bob Weir, Jerry Garcia or Bobby Cochran.[2]
The Super 80 pickups were developed in the mid-1970s at the behest of Elger, which was Ibanez' American subsidiary. They were looking for a pickup that was more sensitive and easier to play than Ibanez' existing pickups such as the Super 70. The hand/butterfly design on the cover reflected these design goals.[1]
The Super 80 was available with either chrome or gold plated covers and in versions with either 2 or four conductors. They have been seen potted with beeswax or with either clear or opaque epoxy.
Super 80 specs
| | |
| --- | --- |
| Brand: | Ibanez |
| Model no.: | 2680-80 chrome 2-wire / 2680-81 gold 2-wire / 2680-85 chrome 4-wire / 2680-86 gold 4-wire |
| Year introduced: | 1976 |
| Construction: | Humbucking |
| Position: | Neck or bridge |
| Magnet: | Ceramic |
| DC resistance: | 7.9–8.2 KΩ (measured)[3] |
| Impedance: | 263 KΩ[4] |
| Inductance: | 4.35 Henries[4] |
| Resonant frequency: | 8000 Hz[4] |
| Wiring: | 2-conductor or 4-conductor |
| Used in: | 2681, AR2619, others... |

Description:
High output (at the time of their development) humbucking pickup with the rare combination of power and fidelity. Bright, punchy, clean and full. Both 2- and 4-conductor versions were produced. The 4-conductor versions could be coil-split, typically with the use of a Tri-sound switch.

A recent review in Music Radar describes the original Super 80s as "pretty poky, bright-voiced PAF-alikes."[5]
Images
Gallery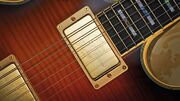 Sources
↑ 1.0 1.1 Specht, Paul; Wright, Michael; Donahue, Jim (2005). Ibanez : the Untold Story. Bensalem, Penn.: Hoshino (U.S.A.). p. 80. ISBN 0976427702.
↑ Super 80's History - Experts Please Contribute! (thread), Ibanez Collectors World forum
↑ Super 80 Pictures Database (thread), Ibanez Collectors World forum
↑ Ibanez AR2619-AV Prestige review; Vinnicombe, Chris; MusicRadar.com; September 4, 2014; archived from the original September 2016.
Community content is available under
CC-BY-SA
unless otherwise noted.