Portal:
Steve Vai series
|
Signature series
|

For a full list of Steve Vai models, see Portal:Steve Vai series.
The Steve Vai series are several Signature lines of solid body electric guitar and acoustic/ electric guitar models offered by Ibanez. They are the signature guitars of Steven Siro "Steve" Vai (born June 6, 1960), an American rock guitarist, songwriter, vocalist and producer.
As a guitarist, Vai is known for its work with Alcatrazz, David Lee Roth, Frank Zappa and Whitesnake as well as for an extensive solo career of primarily instrumental rock.
As an Ibanez endorser, Steve Vai has multiple signature series products, including three distinct lines of the solid body electric guitars, the JEM, PIA and, Universe series as well as the Euphoria line of acoustic/ electric guitars.
History
JEM series
The initial model in the JEM line and the first signature guitar produced for Vai, the JEM777, was introduced in 1987.
The design of the JEM series was influenced by the Fender Stratocaster, but with a more aggressive style. This type of guitar would come to be known as a "Super Strat". Perhaps the most instantly recognizable feature of the JEM models is the monkey grip on the upper body.
Universe series
The seven string Universe (UV) series was introduced in 1990. The initial Universe models were the first seven string electric guitars offered by a major guitar company.
PIA series
The PIA series is a new line of solid body six-string electric guitar models which debuted for 2020. The PIA3761 is the initial model in this new series.
The design of the PIA is similar to Vai's JEM line, but with a yin/ying floral cutout pattern in place of the JEM's iconic Monkey grip. Other design changes include more rounded edges and a new magnetic tremolo cavity cover. In addition the PIA model includes newly designed UtoPIA pickups.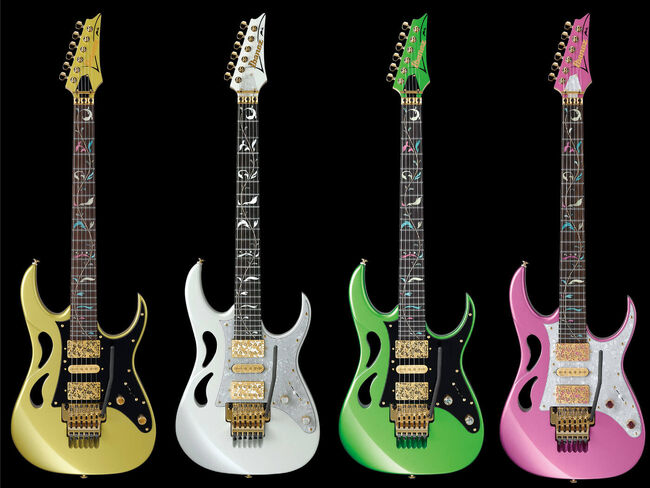 Euphoria series
The Euphoria series is a line of acoustic/ electric guitars designed with Vai. The initial model in the line, the EP7, was introduced for 2004. It was the third signature acoustic guitar offered by Ibanez following the SG10 for Stefan Grossman in the early 1980s and the limited Paul Gilbert signature PGA1000 in the late 1990s.
The Euphoria series is characterized by a thin body with a pointed Florentine cutaway to allow access to the upper frets of the 24-fret fingerboard. Special electronics allow the player to access a number of various acoustic sounds.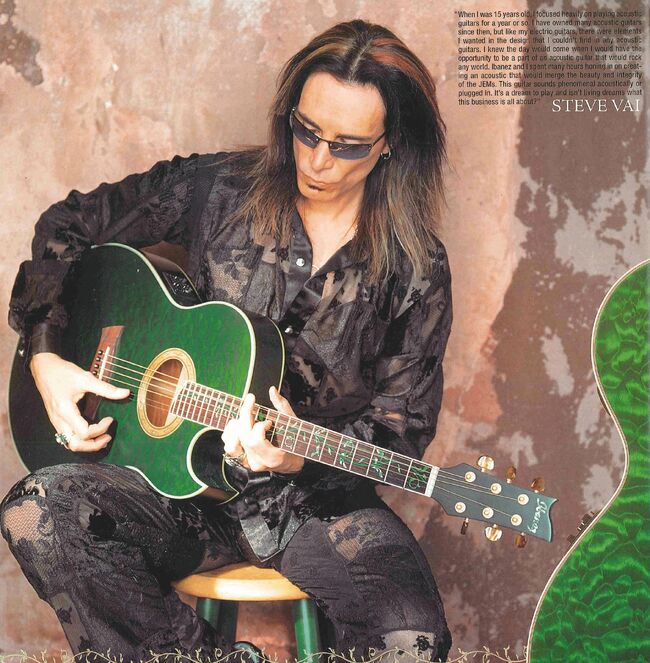 | | |
| --- | --- |
| Steve Vai with the EP7 | |
Equipment
Personal guitars
Steve Vai owns an plays several Ibanez guitars. Currently, he mainly uses a couple of models resembling the JEM7V production model. His current main guitar dubbed "Evo" is an early production model and "Flo" is a Floral JEM77 painted over. Due to extensive wear and tear, Vai's guitars occasionally get parts replaced, such as the tremolo and even the neck.
Most of Steve Vai's stage and studio guitars are stock or made out of stock parts, meaning that they are not specially made for him but come from the regular Ibanez production lines. Some of them do get modified to some extent, such as the installation of a sustainer pickup or a True Temperament fingerboard.
Ibanez also built a couple of custom guitars for Vai, including two heart-shaped triple neck models, another triple neck based on the JEM7V and a double neck resembling the JEM77B.
Other equipment
Steve Vai has also worked with Carvin Guitars to develop the Carvin Legacy line of guitar amplifiers. Vai wanted to create an affordable amp that was unique, and equal in sound and versatility to any guitar amp he had previously used. Vai's effects pedals include a modified Boss DS-1, Ibanez Tube Screamer, Morley Bad Horsie, Ibanez Jemini Twin Distortion Pedal, TC Electronics G-System, Morley Little Alligator Volume pedal, Digitech Whammy, and an MXR Phase 90/Phase 100 on the Passion and Warfare album. He has used a number of rack effects units controlled via MIDI.
External links
Sources