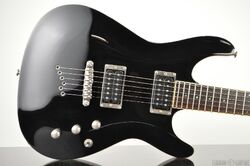 | | |
| --- | --- |
| SZ pickups on the S320 | |
The Ibanez SZ pickups are designed and produced by Ibanez.
As the name goes, these pickups are found on the SZ series exclusively. Introduced with the guitar series of the same name in 2003, the SZ pickups were shortly replaced in 2005 by the Duncan/Ibanez on standard models, and by the Seymour Duncan IBZ on Prestige models. Thus the very short lifespan of this pickup series.
List of pickups
SZ pickups
| | |
| --- | --- |
| Model no.: | SZ1 |
| Construction: | Humbucker |
| Position: | Neck |
| Magnet: | Ceramic |

Description:
Neck humbucker specially made for SZ series guitar models, replaced by the Duncan/Ibanez pickups in 2005.
High output with added bass response
| | |
| --- | --- |
| Model no.: | SZ2 |
| Construction: | Humbucker |
| Position: | Bridge |
| Magnet: | Ceramic |

Description:
Bridge humbucker specially made for SZ series guitar models, replaced by the Duncan/Ibanez pickups in 2005.
High output with added bass response
Related content:
Pickups
|