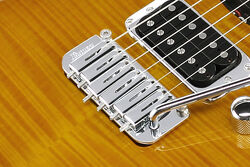 | | |
| --- | --- |
| The SAT Pro II tremelo on the SA160FM | |
The SAT Pro II is a type of tremolo bridge made by Ibanez and sourced on Ibanez SA series guitars. It is a non-locking Fender Stratocaster-style synchronized tremolo, meaning that the bridge and tailpiece are all one rigid assembly. As such, when the tremolo arm is moved, both the length and tension of the strings are impacted, which allows a greater range of pitch control than on a non-synchronized tremolo. The "SAT" in the name originally stood for "Satellite"[1] although that nomenclature seems to have been mostly abandoned in the company's more recent materials.
The SAT Pro II's design has the string saddles firmly secured to the bridge plate to minimize unwanted resonance and keep the saddles stable even with frequent tremolo use. The saddles can be adjusted individually to fine tune both the height (action) and length (intonation) of the strings. Only the front section of the 2-piece saddle raises when the tremolo arm is moved while the back remains locked. The swing-tension as well as the height of the pop-in tremolo arm is adjustable.
The SAT Pro II system is a less complex design than other locking tremolo systems developed by Ibanez such as the Floyd Rose-style Edge tremolo family, but more sophisticated than the Fender Stratocaster's one. It can be compared to the Wilkinson VS100.
The SAT Pro II was released in 2008 and is an evolution of the design of the earlier SAT Pro bridge. The Ibanez part number of the SAT Pro II is 2TR27AA001.
Sources
Related content:
Tremolo bridges
|