The MTM10 is an MTM series solid body electric guitar model and the signature model of Mick Thomson, lead guitarist for American heavy metal band Slipknot.
The MTM10 is a mass-market version of the Thomson's premium signature model, the MTM100. The MTM100 and MTM10 replaced the RG-style MTM1 and MTM2.
The body of the MTM10 is borrowed from the Glaive series which is part of the Ibanez X series. Features include a Wizard III neck-through body construction with mahogany body wings, dual Duncan Designed HB-105MT active humbucking pickups and a fixed bridge.
The MTM10 was discontinued in 2013 after a two year production run.
Specifications
Specifications for MTM10
Model name: MTM10
Year(s) produced: 2012–2013
Sold in: Worldwide
Made in: Indonesia
Finish(es): BR (Blood Red)

Neck
Neck type:
Wizard III
Neck material:
2012: 3-piece mahogany/ maple
2013: 3-piece maple/ jatoba
Fingerboard material:
Rosewood
Fingerboard inlays:
None
Frets:
24 / jumbo
Nut:
Barless Top-Lok
Portal:
Mick Thomson series
|
Signature series
|
X series
|
Guitar models

Videos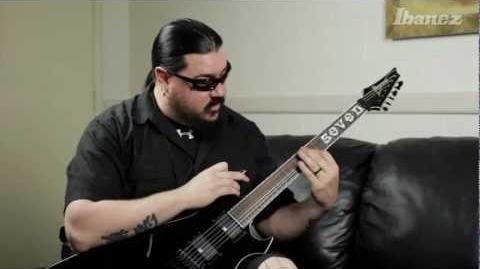 Sources