The JEM2K, also known as the JEM2KDNA or simply the JEM DNA, is a JEM series solid body electric guitar model introduced by Ibanez in 2000. It is a signature model of American guitarist Steve Vai which was made in Japan by FujiGen.
The JEM DNA is a special limited edition model issued to commemorate the new millennium; just 300 were produced. The red paint used in the swirl (which was done by Darren Johansen of About Time Design) contains some of Vai's own blood, hence the DNA appellation. The guitar features an American basswood body bolted to a maple and bubinga neck with a 24-fret rosewood fingerboard with a special "DNA/ blood vessel" inlay pattern in luminous blue and green and luminous green side dots. Components include a Lo-Pro Edge double locking tremolo bridge, DiMarzio Breed pickups mounted in a illuminant clear pickguard with a pair of green and black humbuckers flanking a red single-coil, and Gotoh tuning machines.
Similar "Millennium Models" were produced for Joe Satriani (the JS2K) and George Benson (the GB2K); the themes for these guitars were the planet and masquerade, respectively. They were produced in similar limited numbers. Each guitar in the series features an image representing all three guitars on the rear of its headstock: a DNA double helix for the JEM2K, a ringed planet for the JS2K and a Mardi Gras style mask for the GBK2. The image associated with the particular model is placed in the center and slightly enlarged.
Specifications
Specifications for JEM2K
Model name: JEM2K DNA
Year(s) produced: 2000
Sold in: Worldwide
Made in: Japan
Finish(es): DNA Multicolor

Body
Body type:
Solid body
Body material:
American basswood
Neck joint:
AANJ
Bridge:
Lo-Pro Edge tremolo
Pickguard:
Illuminant clear
Knob style:
Plastic top hat (green)
Hardware color:
Powder cosmo

Neck
Neck type:
Super Wizard
Frets 21-24 scalloped
Neck material:
3-piece maple/ bubinga
Scale length:
648mm/ 25½"
Fingerboard material:
Rosewood
Fingerboard inlays:
Luminous blue DNA/ blood vessel pattern w/ luminous green dots
Luminous green side dots
Frets:
24 / 6105
Nut:
Top-Lok III
Machine heads:
Gotoh SG381
Portal:
JEM series
|
Guitar models

Images
Video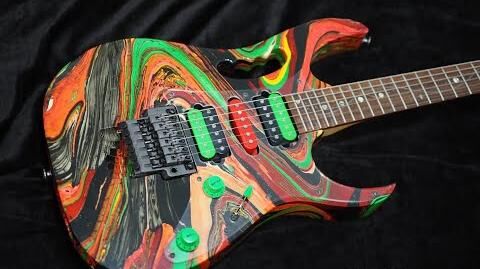 2000 Ibanez JEM2K DNA
Sources