Portal:
Herman Li series
|
Signature series
|
S series
|

For a list of Herman Li models, see Portal:Herman Li series.
The Herman Li series or E-Gen series is a line of solid body electric guitar models manufactured by Hoshino Gakki and sold under the Ibanez brand. It is the signature series of guitarist Herman Li, known primarily for his work with the British power metal band Dragonforce.
Li's signature guitars are based on the thin-bodied S series. They are differentiated from standard S models most conspicuously by the scalloped "Kung Fu grip" on the upper horn.
History
The initial model in the Herman Li series was the EGEN1, which was introduced in 2008. In addition to the Kung Fu grip, the body features an extra-deep cutaway on the lower horn to ease access to the scalloped upper frets. Components of the EGEN1 include custom DiMarzio pickups and an Edge Zero tremolo with ZPS. The EGEN1 was renamed the EGEN18 for 2009.
The second model in the line, the EGEN8, was introduced for 2010. It is a more affordable, mass-market version of the EGEN18. The EGEN8 has Ibanez Vintage pickups and an Edge III tremolo, but is visually similar to it's big brother.
Before the introduction of his signature guitars, Herman Li had been known to play Ibanez S series guitars, including custom 24-fret models and older 540S and S470 models.
The Herman Li series was discontinued after 2019.
Video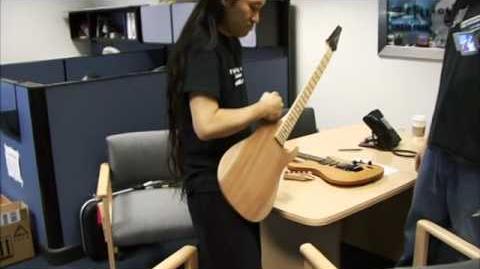 Ibanez E-Gen Guitars - 'The Making of' with Herman Li
Sources
External links
Community content is available under
CC-BY-SA
unless otherwise noted.