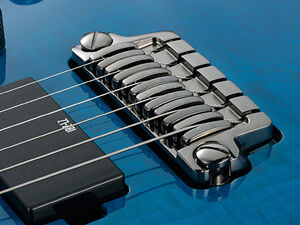 | | |
| --- | --- |
| The Gibraltar Plus on an RGA321 | |
The Gibraltar Plus is a hard-tail bridge used on Ibanez guitar models. It is a combination of a Gibraltar III bridge and a Quik Change tailpiece in a single unit. It allows a wide range of intonation adjustment needed for heavy gauge strings.
It was introduced specially for the new RGA series in 2005; it has been used on all Japanese made hard-tail RGA models since its introduction, inluding the MBM1 Matt Bachand signature model. For other RGAs, Ibanez introduced the Gibraltar Standard in 2009.
Portal:
Bridges
|
Parts