The Gibraltar is a fixed guitar bridge used on various Ibanez models. It is designed by Ibanez and produced for Ibanez by Gotoh.
The Gibraltar is a Tune-O-Matic style bridge. It is solely a bridge, meaning that it does not anchor the strings to the body itself. Therefore it must be combined with a separate tailpiece or in a string-through-body setup. It was most often paired with a Gibraltar tailpiece.
The Gibraltar bridge is designed for simple use and adjustment. It allows for quick and easy intonation and string height alteration. Each saddle can be moved forward or back individualy to adjust intonation for each string. An advantage of the Gibraltar is that it offers a larger range of movement for intonation than many other TOM-style bridges.
The Gibraltar was largely replaced by the Gibraltar II when that model was introduced in 1983.
Guitar models with a Gibraltar bridge include most Artist series models of its era as well as a handful of others. For a full list of models using the Gibraltar, see here.
This bridge is often, if not always, paired with a sustain block that is buried in the top of the guitar. It is unclear if Ibanez pioneered the use of a metal block attached to the bridge to increase sustain; Yamaha's SG2000 model, which was introduced in July of 1976, had a similar feature. The SG2000 sustain block was made of brass, but the Ibanez block was made of some grey-coloured and heavy, but unspecified pot metal.
Gibraltar parts listing: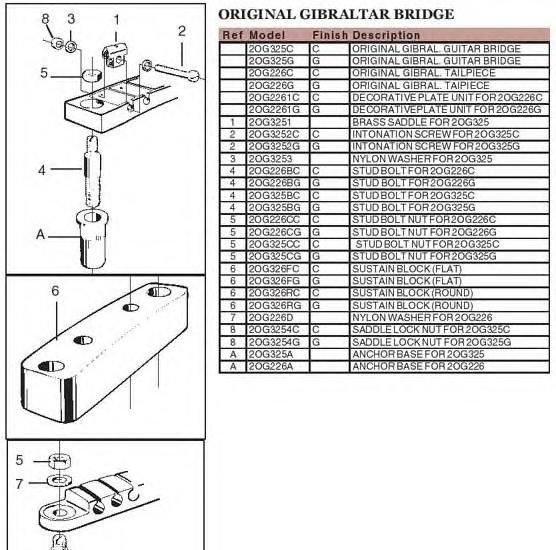 Sources