The GRGM21M is an RG-style short-scale solid body electric guitar model introduced by Ibanez in mid-2009. It is produced in China as part of the entry-level GIO line.
The GRGM21M features a basswood (later poplar) body bolted to a 22" (560mm) scale maple neck with a 24-fret maple fingerboard with dot position markers. Components include dual Ibanez Powersound humbucking pickups and a standard hard-tail bridge.
For 2017 the Powersound pickups were replaced with Ibanez Infinity R humbuckers. For 2018 the bridge was specified as the F106. For 2019 the body species was once again basswood and the 3-way lever pickup selector was replaced with a 5-way.
The GRGM21M was offered as part of the IJM21M Jumpstart package also containing a practice amp and various accessories sold in the US. The "Black night" (BKN) color was available only as part of this package. The GRGM21M is also sold with a gig bag with a package model number of GRGM21MGB.
Similar models and special editions
Similar models are the GRGM21, which features a rosewood fingerboard with "sharktooth" inlays rather than the maple fingerboard with dot inlays on this model and the left-handed model of the GRGM21, the GRGM21L.
Several GRGM21M limited edition models have been produced, including:
Specifications
Specifications for GRGM21M
Model name: GRGM21M / IJM21M
Year(s) produced: 2009–2022
Sold in: Asia & Africa 2019–2021 / China 2019–2021 / Europe 2020–2021 / North & South America and Oceania 2009–2021 / USA
Made in: China
Finish(es): Black Night (BKN) 2012–2014 [kit only] / Blue Burst (BLT) 2020–2022 / Candy Apple (CA) 2019–2021 / Jewel Blue (JB) / Metallic Light Green (MGN) 2016–2019 / Metallic Purple (MPL) 2015–2021 / Orange Burst (ORB) 2020–2021 / Red (RD) 2009–2016 / Yellow (YL) 2009–2014; 2016–2017 / Vivid Pink (VPK) 2015–2018 / Walnut Sunburst (WNS) 2015–2022

Body
Body type:
Solid body
Body material:
2009–2012: Basswood
2013–2018,2022: Poplar
2019–2021: Basswood
Neck joint:
AANJ
Bridge:
2009–2017: Fixed bridge
2018–2022:

F106

fixed (10.5mm string spacing)
Pickguard:
3-ply: black/ white/ black
Knob style:
Plastic top hat (black)
Hardware color:
Chrome

Neck
Neck type:
GRGM
Neck material:
1-piece maple
Scale length:
564mm/ 22.2"
Fingerboard material:
Maple
Fingerboard inlays:
Black dot
Frets:
24 / medium
Nut:
Black plastic (43mm)
Machine heads:
Ibanez die-cast

Electronics/ Strings
Pickup configuration:
HH
Bridge pickup:
2009–2016: Ibanez Standard/PSND2 (H)
2017–2022: Ibanez Infinity R bridge (H) passive/ ceramic
Neck pickup:
2009–2016: Ibanez Standard/PSND1 (H)
2017–2022: Ibanez Infinity R neck (H) passive/ ceramic
Controls:
2009–2018: Master volume / master tone / 3-way lever pickup selector
2019–2020: Master volume / master tone / 5-way lever pickup selector
Output jack:
¼" mono (side mounted w/ oval plate)
String gauge (factory):
.010/.013/.017/.026/.036/.046
Factory tuning:
1E,2B,3G,4D,5A,6E (E Std.)
Portal:
GIO series
|
miKro series
|
RG series
|
Guitar models

Ibanez catalog images
Images
Additional finishes/ details

Video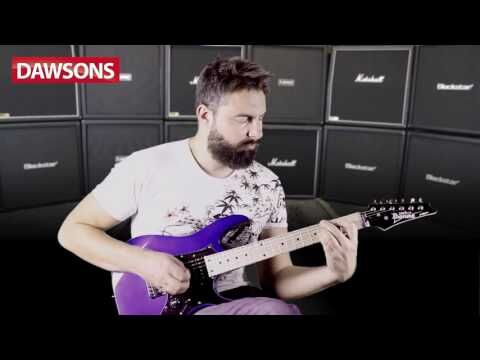 Ibanez GRGM21M ( Review )
Sources
GRGM21M product page, Ibanez USA, archived May 2016
GRGM21M product page, Ibanez USA, archived December 2017
GRGM21M product page, Ibanez USA, archived January 2018
GRGM21M product page, Ibanez Asia, archived January 2019
GRGM21M product page, Ibanez USA, archived January 2020
GRGM21M product page, Ibanez Europe, archived January 2021