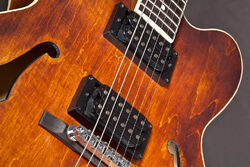 | | |
| --- | --- |
| ACH-ST pickups on the AF55 | |
The Artcore Humbuckers (ACH) pickups are designed and produced by Ibanez.
As the name implies the Artcore Humbuckers were designed for the Artcore series of the hollow-body guitars. However they have also been used in several solid body models, notably the ART series as well as a few others.
Three types of models comprise this series: the ACH and ACH-ST (semi/full hollow body models) and the ACH-S (solid body models). As always, a few exceptions may occur.
List of pickups
Artcore 1
| | |
| --- | --- |
| Brand: | Ibanez |
| Model no.: | ACH1 |
| Construction: | Humbucker |
| Position: | Neck |
| Magnet: | Ceramic |
| Used in: | ART80 |
| | |
| --- | --- |
| Description: | Humbucking pickups, sometimes considered as a less expensive version of the Super 58 pickups found in the semi/full hollow body Artcore series. Clean sounding with a slight overdrive.[1] Versions with gold, chrome and cosmo black covers were offered. |
Artcore 2
| | |
| --- | --- |
| Brand: | Ibanez |
| Model no.: | ACH2 |
| Construction: | Humbucker |
| Position: | Bridge |
| Magnet: | Ceramic[1] |
| Used in: | ART80 |
| | |
| --- | --- |
| Description: | Bridge version of Artcore 1. Versions with gold, chrome and cosmo black covers were offered. |
Artcore 1-S
| | |
| --- | --- |
| Description: | Tight and trebly tone.[2] Unlike the Artcore 1 pickup, the Artcore 1-S does not have a pickup cover. |
Artcore 2-S
| | |
| --- | --- |
| Description: | Bridge version of Artcore 1-S.[2] Unlike the Artcore 2 pickup, the Artcore 2-S does not have a pickup cover. |
Artcore 7
| | |
| --- | --- |
| Brand: | Ibanez |
| Model no.: | 3PU12A0019 (ACH7)[3] |
| Construction: | P90-style single-coil |
| Position: | Neck |
| Used in: | ASR75 (black/chrome), ASR75V (ivory/gold) |
| | |
| --- | --- |
| Description: | The Artcore 7 is a P90-style humbucker-sized single-coil pickup, which are mounted similarly to humbuckers (i.e. they are not "dogear" pickups). Two versions were produced; one with ivory covers and gold rings, the other with black covers and chrome rings. It is suited for use in the neck position and is typically paired with an Artcore 8. |
Artcore 8
| | |
| --- | --- |
| Brand: | Ibanez |
| Model no.: | 3PU12A0020 (ACH8)[3] |
| Construction: | P90-style single-coil |
| Position: | Bridge |
| Used in: | ASR75 (black/chrome), ASR75V (ivory/gold) |
| | |
| --- | --- |
| Description: | The Artcore 8 is a P90-style humbucker-sized single-coil pickup, which are mounted similarly to humbuckers (i.e. they are not "dogear" pickups). Two versions were produced; one with ivory covers and gold rings, the other with black covers and chrome rings. It is suited for use in the bridge position and is typically paired with an Artcore 7. |
Artcore DS1
| | |
| --- | --- |
| Brand: | Ibanez |
| Model no.: | 3PU12A0031 (ACH-DS1) |
| Year introduced: | 2013 |
| Discontinued: | 2014 |
| Construction: | Dogear P90-style single-coil |
| Position: | Neck |
| Used in: | ASR70 |
| | |
| --- | --- |
| Description: | The Artcore Single coil pickups are dogear P90-style humbucker-sized single-coil pickups with black covers. They provide crispy rock sound with full projection.[4] |
Artcore DS2
| | |
| --- | --- |
| Brand: | Ibanez |
| Model no.: | 3PU12A0032 (ACH-DS2) |
| Year introduced: | 2013 |
| Discontinued: | 2014 |
| Construction: | Dogear P90-style single-coil |
| Position: | Bridge |
| Used in: | ASR70 |
| | |
| --- | --- |
| Description: | The Artcore Single coil pickups are dogear P90-style humbucker-sized single-coil pickups with black covers. They provide crispy rock sound with full projection.[4] |
ACH-ST
| | |
| --- | --- |
| Model no.: | ACH1-ST |
| Construction: | Humbucker |
| Position: | Neck |

| | |
| --- | --- |
| Description: | Another variant of the ACH pickups. |
| | |
| --- | --- |
| Model no.: | ACH2-ST |
| Construction: | Humbucker |
| Position: | Bridge |

| | |
| --- | --- |
| Description: | Another variant of the ACH pickups. |
Sources