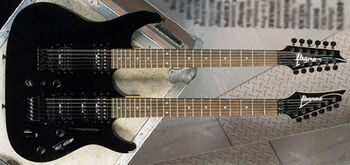 The 540STN is a double neck S series solid body electric guitar model introduced by Ibanez in 1990. It was produced in Japan by FujiGen as part of the Roadstar Pro series. It is also referred to as the 540S-TN. The TN suffix refers to the Twin Neck.
The 540STN is modeled on the 540S with a sleek, thin-edged double cutaway (triple cutaway?) body. Its lower neck has six stings while the upper neck is a twelve string.
The 540STN features a mahogany body with two one-piece maple necks attached with a traditional bolt-on neck joint with a stamped metal plate. The lower, six-string neck has a reverse headstock. Both necks have 22-fret rosewood fingerboards with dot position markers.
Both necks have Ibanez pickups. The twelve string neck has a dual humbucker configuration, while the six string adds a middle single-coil pickup. The six string neck has an Edge double locking tremolo bridge with a locking nut while the 12-string has a fixed bridge.
Controls consist of individual volume controls for each neck, a single master tone control, a 5-way pickup selector for the six string neck, a mini 3-way toggle pickup selector for the 12-string neck and a 3-way neck selector toggle.
The STW is a similar model with 6-string and 7-string necks which was produced in 1999. These two S series twin necks are among just a handful of such models sold by Ibanez since the 1970s. Since the S540SW was discontinued after 1999, the only other production twin-neck models have been 2670RE Artwood Twin reissue from 2006 and the Xiphos XPT1400TW in 2010.
It is believed that between 50 and 100 examples of this model were produced before the 540STN was discontinued in 1991.
Specifications
Specifications for 540STN
Model name: 540STN
Year(s) produced: 1990–1991
Sold in: Europe / Japan / USA
Made in: Japan
Finish(es): Black (BK) / Crystal Pearl (CP) / Ruby Red (RR) 1991

Body
Body type:
Solid body
Body material:
Mahogany
Neck joint:
Bolt-on (both necks)
Bridge:
6 string: Lo-Pro Edge tremolo
  Japan: Edge tremolo
12 string: 12 string custom (fixed)
Hardware color:
Black (White Gold on 1990 CP models)

Neck
Neck type:
6 string: Wizard
12 string: ??
Neck material:
1-piece maple / 1-piece maple
Scale length:
648mm/ 25½" (both necks)
Fingerboard material:
Rosewood
Fingerboard inlays:
Pearl dot
Frets:
22 / jumbo
Nut:
6 string: Top-Lok III
12 string: ??

Electronics
Pickup configuration:
6 string: HSH
12 string: HH
Bridge pickup:
6 string/12 string: IBZ/USA F2 (H)
Middle pickup:
6 string: IBZ/USA C3 (S)
Neck pickup:
6 string/12 string: IBZ/USA F1 (H)
Controls:
6 string: 1 volume / 5-way lever
12 string: 1 volume / 3-way mini toggle pickup selector
Both: Master tone / 3-way toggle neck selector
Portal:
Roadstar Pro series
|
S series
|
Guitar models

Images
Sources
1990 Japan catalog (pages 24–25) 1991 USA catalog (page 15) 1991 Europe catalog (page 24)